A Full & Complete System
What makes the system effective at preventing dirt, sticks, other debris, and pests from entering the gutters? The K-Guard Gutter System is the most durable and practical gutter system available. From our unique hood to the downspout and everything in between, our product, which is a complete system, keeps debris out while flushing water faster than any other gutter system.
Unlike most gutter systems with one component (hood, mesh, topper, etc.), the K-Guard Gutter System is complete, offering more than one part to keep leaves, debris, and pests out.
Hood
The hood of the K-Guard Leaf Free Gutter System is like no other; it's curved to allow rain and melt-water to flow from the roof and into the gutter. Because of its curved design, the hood lets leaves slide off the gutter system rather than enter through the narrow opening where only water adheres. With nowhere for leaves, debris, and pests to enter, your gutter system will never become clogged.
Gutter
Our gutters are larger than those of a traditional open-top gutter system. Our 5-inch gutters allow more melt and stormwater to flow through the gutter system, ensuring your roof won't retain moisture. Whether in a severe storm with torrential downpours or snow melting rapidly off your roof, our large 5-inch gutters will allow water to flow freely and quickly.
Downspouts
The K-Guard Leaf Free Gutter System has larger downspouts than others. Our 4×3" downspouts (also referred to as 3×4" downspouts) can handle a minimum of 22 inches of rain per hour. In contrast, traditional gutters use 2×3" downspouts which are too small for proper drainage in heavy precipitation (especially if debris is in the gutter).
K-Guard is also the only gutter system with 45-degree by 45-degree inside corners that allows water to flow from the gutters to the downspouts and eliminates "choke points." Our larger-sized downspouts allow rain and snow/ice melt to be pushed further away from your home than traditional gutter systems.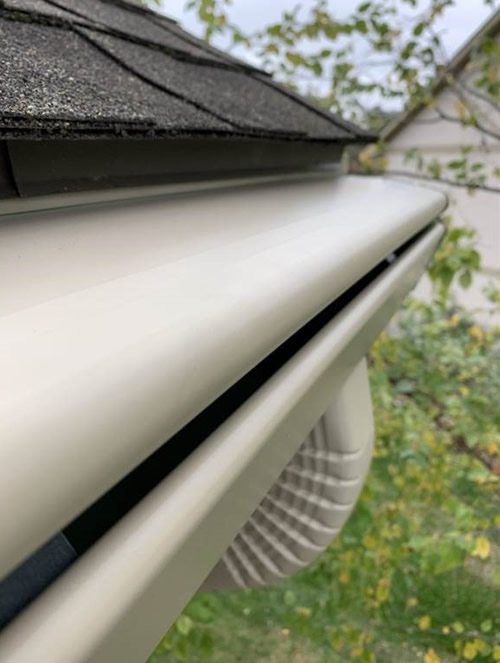 K-Guard Helps Protect Your Home
When a home doesn't have a proper gutter system installed, the home's roof can retain moisture, leading to leaks and damage to the shingles and other potential damage to your home (rotting fascia boards, sagging, basement flooding, etc.). The K-Guard Gutter System's rear-drainage channel allows water to enter the system in multiple ways so water isn't left to sit on the roof and accumulate over time which can cause damage to your home.
Because the K-Guard Gutter System mounts above the floodplain, our gutter system eliminates the possibility of gutter separation from rotting fascia boards and soffit. Traditional open-top gutters mount to the fascia or, in rare cases, the roof, which can cause separation, sagging, and other damage over time.
K-Guard is a Trusted, National Brand
The K-Guard leaf-free gutter system was patented in 1996 and has grown to be the most popular choice of complete gutter systems by homeowners in the gutter protection industry for over a quarter century. In addition to over twenty-five years of excellence, K-Guard Heartland is locally owned, something we pride ourselves on. You can trust K-Guard, a reputable national brand, to install a long-lasting gutter system that will protect your home from rainfall, storms, snow, and high winds.
Lifetime Paint, No Clog & No Pull Away Warranties
Lifetime Paint Warranty
The K-Guard Gutter System is made of heavy-duty aluminum, which will never corrode, ensuring paint never chips. Traditional open-top gutters aren't constructed from the same heavy-duty material, and the paint can chip over time.
Lifetime No Clog Warranty
K-Guard comes with a 100% lifetime clog-free warranty, something traditional and many other "complete" gutter systems can't offer. Our gutter system eliminates the need for you to remove debris multiple times a year and keeps water flowing through the system while blocking leaves and debris from entering the gutter system. We stand behind our product so much so that if, for any reason, your gutters do become clogged (trust us, they won't), then we'll perform maintenance on them at no cost to you.
No Pull Away Warranty
Because our system is made of heavy-duty aluminum and our durable polymers are made to support the hood of the gutter system entirely, it'll never pull away from the home. Our gutter system can move water through rapidly and is guaranteed never to sag or pull away from your home.
Guaranteed Transferable
K-Guard is guaranteed transferable for the life of the home. Again, something that traditional open-top gutter systems can't offer as their average lifespan is much shorter. Our leaf-free gutter system will hold up whether you never sell your home or move someday.